Affordable but most advanced engineering solutions………
Click Here For Video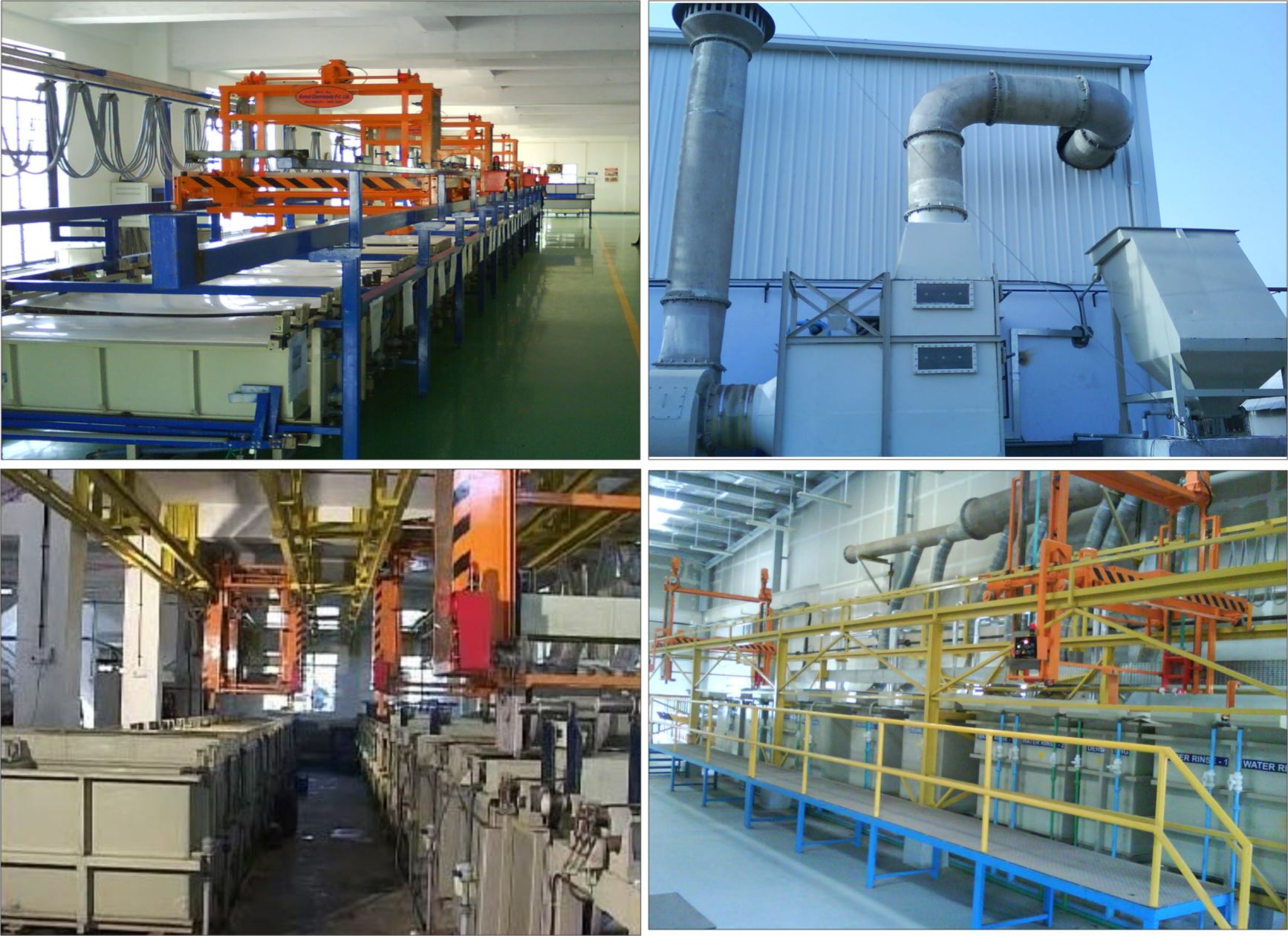 Plants (Process Tank & Ancilliaries, Flight Bars, Transporters, PLC, Control Panel, Exhaust, ETP, Structure etc) * Planning * Installation, * Commissioning, *Maintenance, * After Sales Service backup
Fully Automatic Plating Plants are used in the metal finishing industry to carry components held commonly in Racks or Barrel, mechanically through a number of treatment cycle Tanks, by means of PLC operated transport wagons.
The advantages of "KCPL" Automatic plants are direct savings in labour cost, Better process application & production control, Improved solution maintenance and quality control, Lower floor space, Possibility of larger and deeper Tanks with larger and heavier rack sizes. Better control of dragout, Lesser danger of solution contamination, Efficient fume extraction and ventilation, High quality ETP process and so on……all leading to a high rate of economy in production costing.
KCPL plating and metal finishing plant includes manufacturing of complete Plant such as Process Tanks & Ancillaries, Flight Bars, Material Handling Systems, PLC Automation, Centralised Control Panel, Fume Exhaust System, Heating System, Cooling System, Effluent Treatment Plant, Service line connection, etc. * Installation * Commissioning * Maintenance * After Sales Service backup. We can undertake complete responsibility for all peripheral aspects of an automatic plant as featured above including training of operated personnel. We have our own specialist staff for installing the plant and equipment so as to enable smooth, dependable and successful commissioning with our responsibility.
Why opt for Komal Automatic Systems?
1) Use less floor space (generally this is true only when production levels are considered with labour involved). Depending on the transfer mechanism used, more floor space may be required, but will deliver higher production at lower unit labour cost.
2) Larger and deeper tanks are possible.
3) Larger and heavier rack sizes are possible.
4) Better control of dragout. This is mainly the result of controlled transfer time, and also provides better and more complete drainage between tanks.
5) Less danger of solution contamination.
6) Better rack life and control of insulation of contacts. This depends on the Komal loading and unloading procedures used.
7) More efficient ventilation is possible.
8) Lower installation cost. Depends on the equipment selected, modified by labour savings.
9) Better process control. A function of controlled processing times.
10) Better production control.
11) Less costly and improved solution maintenance.
12) Better control of quality and specifications.
13) Lower rejects.
14) More efficient use of labour and materials.
15) Improved working environment.
As a buyer, what are the factors you must consider while selecting a fully automatic machine?
1. Production requirements
2. Specification
3. Work load and rack size or Barrel Size / Capacity
4. Carrier spacing
5. Number of lanes
6. Treatment cycles
7. Load output / hour
8. Transfer time
9. Anode rod spacing
10. Current requirements per load
KCPL has a range of Metal Finishing Systems, Plants & Equipments for:
• Electroplating
• Electrolytic and Electroless Plating
• Phosphating
• Anodising
• Electrophoretic Coating
• Electropolishing
• Chromating
• Cleaning
• Pickling
• Effluent Treatment Plant (Waste Treatment Plant)
• Fume Exhaust Systems (Ventilation Systems)
• Water Purification Systems
• Special Purpouse Machinery
• Filteration Systems
Whether modifying / upgrading an existing plating systems or designing, manufacturing and installing a new automatic / manual line, our inhouse machinery, assembly, electrical, piping, sandblasting, polishing, painting and plastisol coating offers premium quality, economy and speed of execution, backed by one of the industry's best and qualified Technical (Design & Engineering), Quality, Manufacturing and support staff.
Electroplating Systems for Mild Steel, Stainless Steel, Copper, Aluminium, Plastic: side arm machines, split rails, overhead hoist, barrel plating lines for:-
• ENP Systems
• Copper Plating Equipment
• Chrome Plating Equipment
• Nickel Plating Equipment
• Nickel Chrome Plating System
• Brass Plating Equipment
• Precious Metal Plating System
• Zinc Plating System
• Tin Plating System
• Tin Zinc Plating System
• Plating on Plastic: Decorative Chrome, others
• Phosphating System
• Anodizing System
• Blackodizing System
• Chromatizing System

KCPL's array of Electroplating System
Rack (Vat) Plating Plants for Metal or Plating on Plastic with modular design and high capacity with fixed, flexible-fixed or random timeways.
Barrel Plating for Metals, ideal for small or difficult to handle parts, with high capacity, automatic loading / unloading.
Split Rail Return Type Rack processing for Metal with automatic operation. Ideal for fixed cycle work at high throughput.
Komal also supplies with the above systems a complete range of material handling ( vibratory feeders, chutes and powered part movers) and auxiliary equipment including dryer, chemical dosing, filtration and chemical recovery, fume exhaust system, Centrifugal fan, Mist Eliminators, exhaust hoods, duct, fume scrubbers, Effluent Treatment Plant (ETP, Waste Water System), Clarifier, Scrubber, as part of the complete system.
KCPL's Decorative Plating Equipment Systems
Manual and Automatic processing equipment systems for plating Aluminium, Copper, Brass, Steel and Stainless Steel parts with Copper, Nickel, Chrome, Brass, Silver, Gold, Tin, Lead and others.
KCPL's Industrial Plating Equipment System
Manual and Automatic processing systems for plating Aluminium, Copper, Brass, Steel and Stainless Steel parts with Cadmium, Hard Chrome, Tin, Lead, Nickel and Zinc, Silver, Gold, CED coatings.
KCPL's Aircraft Plating Equipment
Large tank system specifically designed from Hard Chrome, Nickel and Cadmium plating of extraordinary size and aircraft parts.
KCPL's Anodizing Equipment System
Manual and Automating process equipment systems for Anodizing type I, II hardcoating of Aluminium parts.
KCPL's range of Anodise Systems
Type I CAA - Chromic Acid Anodized
Type II SAA - Sulphuric Acid Anodize
Type III HAA - Hardcoat Acid Anodize
PAA - Phosphoric Acid Anodize
BSAA - Boric Sulfuric Anodize

KCPL's Conversion Coating
Phosphating
Chromatizing
Blackodising
KCPL's Electropolishing Equipment System
Manual and semi automatic straight line processing equipment system of Electropolishing of Stainless Steel and Alumnium parts.
The above systems include Process and rinse tanks, rectifiers and bus work, temperature control, solution agitation, hoists, ventilation hoods, fume scrubber, electrical control panels, and all electrical and plumbing interconnecting between related components.

KCPL's Manual Plating Lines
The Manual Plating design is based on the modular type tanks, heater, thermostats, exhaust hoods, incoming plumbing, drain plumbing, drain plumbing, etc into one integral system. It is manufactured in sections making it easy to manipulate and install.
Key features of this Manual system are:
Rugged construction
The modular system is constructed from 8-15mm polypropylene sheet with encapsulated steel located in critical areas, to prevent distortion.
Installation
The system is designed to keep your installation time and materials at a minimum. All electrical controls are prewired to the front control console, all drains and incoming plumbing are pre-plumbed to termination and inlet points, the exhaust hood/ plenum system is an integral part of the module. All are designed for simple and inexpensive installations.
Quality
Raw material and electrical component are selected based on reliability.

Maintenance
The systems are designed for maximum accessibility to all components with smooth, unobstructed surface areas which are easy to clean.
KCPL's Turnkey Metal Finishing Systems
KCPL's speciality…starting with an empty floor, our engineers work sytematically with our
customers to develop a basic floor plan for their metal finishing system. Process system. Process
tanks are then designed to meet the criteria of our customers based on chemical content,
temperature and the size of the parts being processed. Once that has been accomplished, tanks
are laid out on the floor plan in our CAD department and a picture of the metal finishing shop
starts to take form.
Chemical containment curb are designed, material handling system, ventilation, waste treatment
systems, grating system, heating and chilling equipment, automatic water replenishment,
filtration systems, and any other options our customer desires are also laid out. The custom
equipment is then manufactured, and the equipment is moved into place. Utilities are hooked
up, chemicals are added and with the permission of the municipalities, our customer is up and
running with their brand new, custom designed Metal Finishing System.

LAYOUTS
Generally as shown in the plans below. Similarly 'L' or Round shaped plant layouts are designed depending on the requirements.