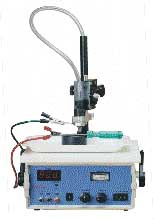 Measurement RANGE : 0 to 99.9 Micron.

ACCURACY : ± 2 %.

READABILITY : 0.1 Microns.

Area of DEPLATING : Min. 1.5 mm dia.

Electrolyte REQUIRED : Approx. 2 cc / test.

Power : 1ph, 230 V, AC.
This is one piece economical model, on Coulometric principles, on destructive bases for measuring thickness of plating like Brass, Cadmium, Chromium, Copper, Gold, Lead, Nickel, Silver, Tin, Zinc & Alloy plating on ferrous , Non Ferrous and Non Metals bases. This Digital unit can be used for determination of thickness of almost all Combinations of Standard Plating or Metallic Coating on Magnetic base like Mild Steel, Nickle, Cobalt, S.S. etc. Non Magnetic Base like Aluminium, Brass, Cadmium, Chromium, Copper, Silver, Tin etc.
Also available micro processor tester with printer facility.