Komal Chemiequip Pvt. Ltd.

Original Manufacturers & Global Suppliers of Automatic Plants, Equipments & Consumables for Electroplating | Surface Finishing & Effluent Treatment

ROLLER TINNING AND ETCHING MACHINE
ROLLER TINNING MACHINE:
This Tin/Solder Coating Machine is used for coating the Tin or Solder (or other metal) on Printed Circuit Board. This improves the solderability and protects the PCBs. The clean drilled PCB upto 310mm width (also available 450 and 600mm) is passed between the coating rollers, rotating at 0.25 r.p.m. The bottom roller transfers tin or solder alloy for the PCB, and the top roller applies uniform pressure for uniform coating. The metal bath is of 7 kgs. capacity, duly insulated and fitted with an electronic temperature controller, 2x0.75 KW heater, 12V DC high torque, variable speed motor, with AC lower drive housing AC input 230V, 50cycles. The unit is housed in stainless steel body or coated with special epoxy coating to ensure durability. Also fitted with Mains, on-off switch, Heaters on - off, Controls & Indicators are housed in a separate or built-in control console.

ETCHING MACHINE:
Vertical Etching Machines are designed for modern etching of Line and Halfone plates (copper or zinc), aluminium metal lables, also etching of printed circuits boards by conventional process. These machines are made of acid resisting PVC such as nitric, chromic, cupric and ferric chloride. The thickness of PVC sheet is 5 mm, and mounted upon an iron base provided with anti-rust paint. The acid tank is fitted with a plastic tube for draining out acid. There is also a fume exhaust to let out the acid fumes to conform to the Factories Act Regulations. Plastic cover for motor is provided to safe guard the motor from acid.
| | | |
| --- | --- | --- |
| Model | KEM 1 | KEM 2 |
| Max. plate size | 4 plates of 30 x 38 cm | 4 plates of 40 x 50 cm |
| Etching time | 4 minutes | 4 minutes |
| Bath capacity | 30 litres | 60 litres |
| Floor space | 55 x 55 cm | 80 x 80 cm |
| Overall height | 100 cm (40") | 140 cm (56") |
| Motor | 1/4 H.P. 1/220/50 A.C. | 1/4 H.P. 1/220/50 A.C. |
| Rinsing ratio | acid : water 1 : 5 | acid : water 1 : 5 |
ALSO AVAILABLE:
Bigger unit of 120 lit. capacity, Racks for mounting PCBs & Horizontal Heater with Temperature Controller.
CONVEYORISED ETCHING MACHINE :
This machine is for PCB etching ranging from 6 x 6 cm to 60 cm. X any length in PVC Body with PVC Tank, Recirculation Pump, DC Geared Motor for variable speed of conveyer, Titanium Cooling Coil, Heater, Sprays in both Etching and Rinsing Chambers, Loading Zone, Unloading Zone, Conveyor Rods, PP Discs, PP Gears, Ti. Shaft etc, Solution sump capacity 100 ltrs. with motorised chemical pumps for etching and spray zone.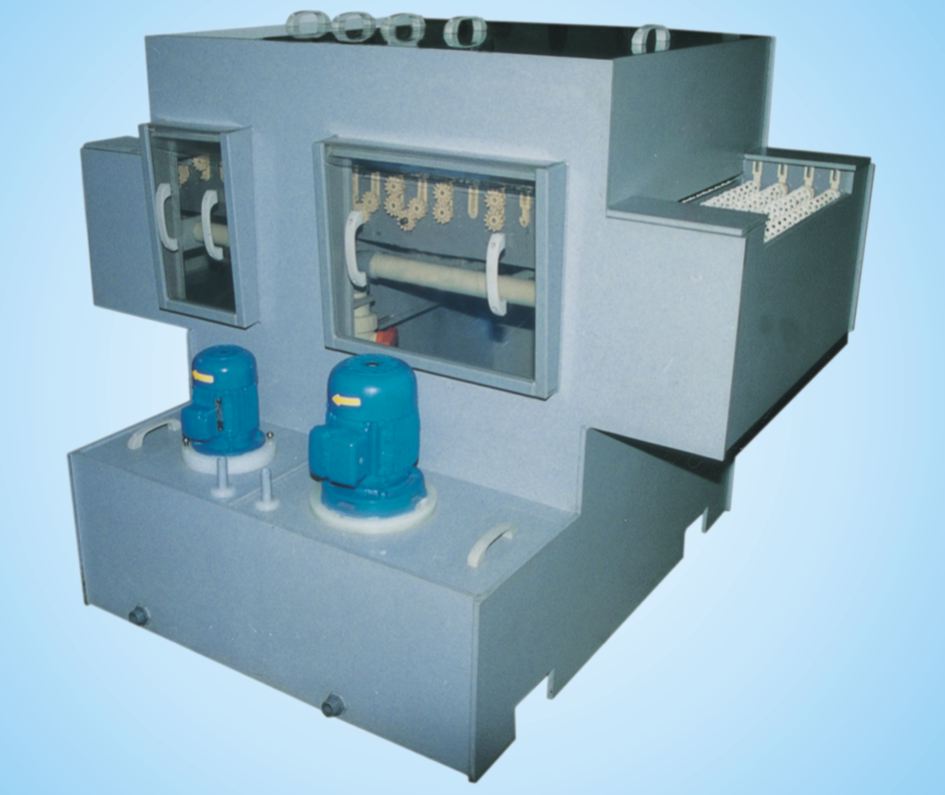 Also available Conveyorised Developer Machine, Ink-Stripping Machine, V - Grooving Machine, Auto Stacker etc.
All details listed herein are for general guidance, subject to change and hence not a commitment.