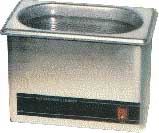 MINI COMPACT CLEANERS
(Table top models (0.5 to 3.5 Litres) Built-in cleaner-cum-generator unit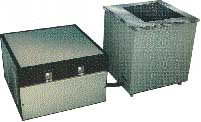 MEDIUM CAPACITY CLEANERS
(6 to 50 Liters built-in or separate body)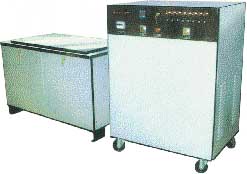 LARGE CAPACITY CLEANERS
(90 to 200 Litres)
Aqueous Industrial Ultrasonic Cleaning machines are manufactured indigenously to high International specifications. Available in various standard capaciters and also non-standard models for specific requirement.

What is ultrasonic cleaning and how does it work?
Ultrasonic Power at high frequency-normally 30Khz (also available in range 23 Khz to 40Khz) is fed to piezo electric transducers (PZT). The electrical power is converted to mechanical vibrations by these PZT. The transducers are bonded to the bottom (or on sides in some applications) of the SS tank containing cleaning solutions. The mechanical vibrations are transferred to the liquid through the tank surface, creating microscopic bubbles - known as cavities in the liquid, which implode with high pressure forming brushing effect on the surface of the components to be cleaned. As a result the contamination is removed. These cavities being microscopic can reach inaccessible crevices, holes in the components where manual cleaning with brush is impossible. The cleaning agent normally dissolves the contamination leaving only the sediment that is not dissolved. Single stage ultrasonic cleaning system is useful with Neutral, Alkaline liquid or mildly Acidic solution.
APPLICATIONS:
All parts (buffed or otherwise) before plating must be cleaned by ultrasonic machine for better adherence, uniform application and excellent finish. Thus for all Electroplating Shops, General Industries, Electronics, Electrical, Watch & Jewellery, Automobiles, Hospitals, Office machines, this is a must, as it removes oil, grease, metalworking fluid, shop soil and particulate contamination, it is a must.